Industry Links and Helpful Websites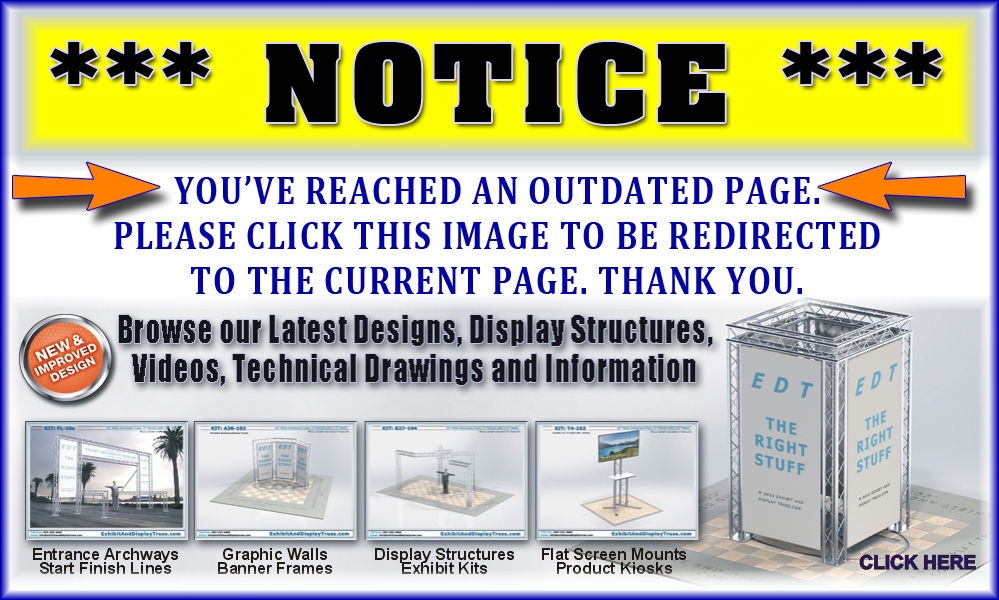 You just proved it !

An attractive truss structure from Exhibit and Display Truss.com will always excite and captivate your patrons and customers.
Our light weight, strong and modular aluminum truss is simply the best solution to create beautiful structures.
Nothing else provides the strength and flexibility of our aluminum truss.
We pride ourselves on providing customers with the best service and product to see their vision and projects come to life.
We can create just about any shape or size structures you like and
custom is never a problem with no additional costs to get you what you want.
Don't settle for "Cookie cutter" offshore imports and products that can't be reconfigured to
provide maximum flexibility and meet your needs exactly .

Let us create the perfect piece for you at fantastic prices.
We'll work hard to earn your business and your trust. We're here to help just let us know how.
Trade Show Exhibitors Association - http://www.tsea.org
Trade Show Exhibitors Association (TSEA) is the industry voice for exhibit and event marketing professionals. For over 30 years, TSEA has provided knowledge to marketing and management professionals who use exhibits to promote and sell their products, as well as to those who supply them with products and services. EDT Archives


Tradeshow Week - http://www.tradeshowweek.com

For over 36 years, Tradeshow Week® has been the voice of the exhibition industry, serving thousands of global companies and business leaders around the world. From its signature editorial coverage to the world-renowned directories, Tradeshow Week® is the only brand which continues to command the attention of the most influential exhibition industry movers and shakers. EDT Archives
Trade Show Executive Magazine - http://www.tradeshowexecutive.com
The mission of Trade Show Executive magazine is to provide news, views and tools to the managers of shows large and small, in every industry from automotive to medical to woodworking, so that show executives can turn innovative ideas into a competitive edge. We aim to help show managers stimulate growth, profits and customer satisfaction so that their show, organization and the trade show industry can prosper. The staff of Trade Show Executive magazine practices the highest code of ethics and standards in journalism and business. We are driven to support the trade show industry through our volunteer work on industry committees, boards, meetings and events as well as with financial contributions to industry foundations and associations. We do this to ensure the vitality and success of the trade show industry as a whole and the industry associations who are the lifeblood of our industry.
Biz Trade Shows - http://www.biztradeshows.com

Trade Fairs, consumer exhibitions are now the most effective medium for the Manufacturers to reach the ultimate buyer and understand their taste, preference and their latest pulse. This could also be a market study to determine the trend and manufacture products to their preference and gain market strength. Also these fairs have now become the perfect points of sale to launch new products or schemes and ramp up the customer base.
Event Design Magazine - http://www.eventdesignmag.com
Event Design's editorial is devoted exclusively to the unique information needs of the designers and engineers who create and build live events across multiple channels. Our editorial team will cover the individuals who are breaking new ground in event design.
Exhibit Builder Magazine - http://www.exhibitbuilder.net
Exhibit Builder Magazine is known for it's integrity, and as the #1 publication in the marketplace. Our consistent format meets the needs of our 15,000 subscribers. Each issue covers: an application article, trade show story, museum article, retail design, new technology, in-depth presentations of successful designs, reports on new products, industry news and association news. We produce one comprehensive directory:
The Source Book
,
known as the "Bible of the Industry"
.
We welcome information about your company's new products and services, as well as business and people news. New product releases will be published in the new product section and assigned a reader service number at no charge. Send a full product description, b/w photo and contact information to the attention of the new products' editor.
ExhibitCity News - http://www.exhibitcitynews.com

A lot of planning goes into the location of a convention center. Certain factors must be taken into consideration, such as the availability of an adequate parcel of land and access to transportation, etc
Corporate Event Marketing Association - http://www.cemaonline.com
CEMA, the Corporate Event Marketing Association, is a non-profit organization dedicated to serving event and marketing professionals in all sectors of the technology industry. Founded in 1990, CEMA offers educational and networking opportunities regionally and nationally.
Convention Industry Council - http://www.conventionindustry.org
The Convention Liaison Council was founded in 1949 by four organizations to facilitate the exchange of information within the meetings, conventions, and exhibitions industry. Now the Convention Industry Council, the organization has grown to include 33 organizations.CIC's member represent more than 103,500 individuals and 17,300 firms and properties involved in the meetings, conventions and exhibitions industry. CIC offers many tools and programs designed to support the industry and meet its challenges; facilitate the exchange of information and ideas; and educate the public on its profound economic impact.
Trade Show World Design - http://www.tradeshowworlddesign.com
Trade show exhibit and display information. Industry editorials and other guides on exhibition and conventions needs.

TSNN.com - http://www.tsnn.com
TSNN.com is the world's leading online resource for the trade show, exhibition and event industry since 1996. The Trade Show News Network (TSNN) owns and operates the most widely consulted event database on the Internet, containing data on more than 15,000 trade shows, exhibitions, public events and conferences. It also offers over 360,000 seminars through a strategic partnership. TSNN.com helps facilitate the exchange between buyers and sellers to achieve a successful venture with over 137,000 registered website users, 35,000 bi-monthly newsletter subscribers and LinkedIn groups. TSNN is a member of the Tarsus Group. Tarsus Group plc was founded, and listed on the London Stock Exchange, in 1998. With offices in the UK (London), USA (Milwaukee), France (Paris), Germany (Dusseldorf) and China (Shanghai), the international business-to-business media group has interests in exhibitions, conferences, publishing and online media.
Exhibition Services & Contractors Association - http://www.esca.org
The association for firms engaged in providing services and materials for the meetings, exhibition and hospitality industry Trade Shows & Exhibitions Conventions & Meetings, Corporate Meetings & Events The voice of the exhibition service industry. A clearinghouse for the exchange of information between members and all other entities of the vast meetings, exhibition and convention industry. Your source for leading general service contractors and their suppliers. Your source for information and assistance in the current business climate.
Exhibitor Online - http://www.exhibitoronline.com
EXHIBITOR magazine, published by Lee Knight, was founded in 1982 and is a recognized leader in trade show and event management education providing techniques, tactics and trends a company can use to successfully market products and services through trade shows. Today, trade show professionals count on EXHIBITOR magazine to showcase the secrets of the most successful exhibit programs and to master the complex skills needed to achieve high-impact exhibit programs...increase traffic...stretch exhibit budgets...build brand...generate sales...and manage the nuts-and-bolts details of a superheated show schedule.
Center for Exhibition Industry Research - http://www.ceir.org
For 30 years, CEIR has been highlighting the importance of exhibitions in today's business environment. Our goal is to promote the image, value and growth of exhibitions. This is accomplished through producing primary research studies that prove the effectiveness and efficiency of exhibitions as a marketing medium. We then incorporate those findings within a targeted, ongoing promotional campaign.
Trade Show Training - http://www.tradeshowtraining.com
From that experience comes his expertise with trade shows as a coach and consultant for sales teams. As a coach for individual and staff performance improvement. As a speaker - in French or English - for associations, seminars and sales meetings.
Exhibitor Appointed Contractor Association - http://www.eaca.com

Dedicated to "raising the level of service excellence on the showfloor", the EACA represents and supports the interests of all EAC's and other exhibit service suppliers. Together, we endeavor to improve the trade show value proposition for all our customers - the exhibitors.
Society of Independent Show Organizers - http://www.siso.org
In 1990 a small group of 12 show producers met to discuss various industry trends. This group (which reads like a veritable of who's who of the exposition industry) decided there was a need for an association that would be dedicated to meeting the needs of the for-profit show producers. And so began SISO – The Society of Independent Show Organizers. SISO is the only place where the Presidents, owners, and CEOs of for-profit show producer companies exchange ideas, share experiences, launch industry wide projects, and learn from each other. SISO grew from a small group of 12 producers in 1990 to an organization with nearly 200 companies. SISO members produce over 3,000 events all over the world. Trade and consumer shows, focused conferences, and other face-to-face events are represented. Members run their own shows and manage shows for others. The membership is a combination of large corporations and small entrepreneurial companies
Exhibit Designers & Producers Association - http://www.edpa.com
The Exhibit Designers and Producers Association (EDPA), founded in 1954, is an internationally recognized national trade association with more than 400 corporate members from 18 countries that are engaged in the design, manufacture, transport, installation and service of displays and exhibits primarily for the exhibition and event industry. Its purpose is to provide education, leadership and networking for the advancement of its members and the exhibition industry. In addition to providing regional industry education programs through its six chapters, EDPA organizes one annual meeting, tradeshow and golf tournament in a resort location for industry members and their suppliers where truss is used. EDPA holds quarterly board meetings, publishes a printed quarterly newsletter, monthly electronic newsletter and membership directory. EDPA also hosts several industry awards, educational surveys and supports the EDPA Foundation.
Specialty Graphic Imaging Association - http://www.sgia.org
Specialty Imaging. It's part of the fabric of our lives. It's integral to the way we do business. It's everywhere. If you're a printer with clients in advertising or retail, non-profits or for-profits — or if you're a supplier serving those printers — you know how important specialty imaging is to their businesses. And if it's important to your clients, it's important to you.
Event Marketer Magazine - http://www.eventmarketer.com

Get the latest, most comprehensive news, features, case studies, research and how-to and reference articles on all aspects of sponsorship, event and experiential programs. Articles include comprehensive how-to information on most aspects of event programs, including many related topics.
Plus-Display -http://www.plus-display.co.uk
Banner Stands from Plus-Display.co.uk provides great exhibition stand value and quality on banner stands throughout the UK. Get your exhibition and stand off to a great start with the help of Plus-Display.co.uk
Professional Society for Sales & Marketing Training - http://www.smt.org
Quite simply, SMT is a center for sales excellence. The Professional Society for Sales & Marketing Training (SMT) is the ONLY association fully dedicated to accelerating business results for its member organizations by improving sales and marketing performance through training. SMT's vision, since 1940, is to continue its role as the leading resource and authority for the sales and marketing training industries. SMT members include corporations and their inside training executives and practitioners, consultants, suppliers, and academic institutions. And a growing number of sales professionals are picking up valuable tips and best practices to give them an edge in the marketplace.