ALUMINUM TRUSS EXHIBIT AND DISPLAY KITS FOR TRADE SHOW AND CONVENTION
Our history has provided us many insights into thousands of businesses and day to day workings of peoples' lives and product needs. Aluminum truss displays and exhibits for trade shows and convention booths have become our focus and we strive to meet the needs of customers perfectly with every order. We can custom fabricate just about anything you can imagine using our aluminum trussing. We never settle for ordinary, and we always provide customers with the best flexibility in the trusses, parts and junctions used to configure their truss display booth. If there is a need to make your custom structure usable for multiple size areas, we will manufacture your structure with that in mind.  Trade Show Displays or Convention Booths, Museum displays, Retail Environments, Kiosks, Finish Line or Starting Line systems. If you can imagine it, we can create it and bring your vision to life.  In these trying times, having the ability to reach and grow your customer base is of the utmost importance.  One of the best ways to accomplish this is by utilizing your available outdoor spaces. Outdoor shelters and structures are a perfect fit for Aluminum Truss.  Our products are made to withstand the elements which makes our structures a great solution, and provides a stylish look with amazing functionality.  With the need for more functional outdoor spaces on the rise, Exhibit and Display Truss can meet your needs and provide you with a solid, custom sized outdoor structure – perfect for you in every way.  All of our structures can be used indoors and out. Need to incorporate digital media or advertising banners?  No problem.  Need to make your structure transportable or able to set up and tear down easily?  We've got you covered.  The functionality of our product is limitless.  We stock hundreds of standard pre-configured truss systems and Start/Finish Lines, but we are always ready and capable to custom make or alter anything to meet your specific needs.
See the answers to common questions asked about all of our display systems in our Frequently Asked Questions section.
10 x 10
EXHIBITION & EXHIBIT DISPLAY BOOTH KITS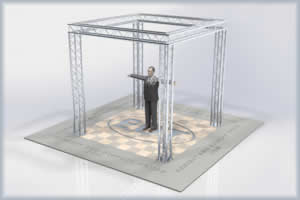 10 x 20
TRADE SHOW EXHIBIT AND DISPLAY KITS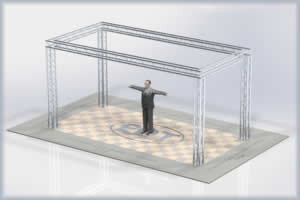 20 x 20
EXHIBITION DISPLAY, TRADE SHOW EXHIBIT DISPLAYS AND EXHIBIT BOOTHS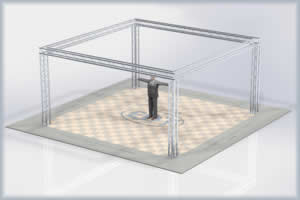 ALL OTHER SIZES
LARGE EXHIBITION EXHIBIT DISPLAY BOOTHS. EXHIBIT DISPLAY KITS FOR LARGER THAN 20′ x 20′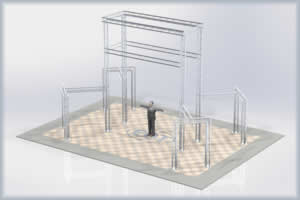 EDT Aluminum Truss is the perfect choice for designing and constructing marathon finish lines and starting lines. Its lightweight, easy to use durable and portable. Don't get stuck with another deflated inflatable finish line that fails on site or won't stand up in the wind. Professional and sturdy, aluminum truss finish line kits from Exhibit And Display Truss can be easily transported to any race event site or marathon. Our truss finish line and starting line systems are all designed from experience in the field and customer feedback.  Perfect for marathons, triathlons, motocross races and any other racing event. Custom fabricated finish line structures using Outrigger arms and larger base plates help to stabilize on uneven ground and provide a surface for ballasting. All of our portable finish racing lines below are available in 3 chord triangle truss or 4 chord box truss versions. Perfect for hanging company logos, sponsorship advertising and banners as well as attaching timing clocks. Timing mats and other race timing devices all attach easily or lay comfortably between the truss uprights.  All of our gantry finish line portable archways can be altered to suit a specific dimension if you require, or we can design a custom truss structure to suit your finish line needs. We have plenty of finish line accessories to round out your event truss system.
​

ALUMINUM TRUSS

6 Profile Sizes Offered In 2-Chord, 3-Chord and 4-Chord
Exhibit and Display Truss offers a wide range of Aluminum Truss Profiles. View the panels below to find out more about our different profile sizes. We carry mini truss, 6″ wide aluminum mini truss and 9″ wide aluminum truss. Our medium duty truss is 10″ Wide Aluminum Truss and 12″ Wide Aluminum Truss. Our Heavy Duty Truss is 18″ Wide heavy duty truss and 24″ Wide Heavy Duty truss. All of our truss is made with aluminum, which is both lightweight and durable. All of our truss systems come with connection inserts that are easy to use and allow for fast assembly. All of our aluminum truss is made in North America.


ALUMINUM TRUSS CIRCLES & CURVES CUSTOM TRUSS FABRICATION
Cost Effective Fabrication Services
Any Size, Shape, or Design You Need Done Fast

Exhibit and Display Truss offers Custom Truss Fabrication. We have 100s of in stock truss systems and finish lines and start lines but we can also create a custom truss fabrication services. We can design any truss system that needs to fit an exact size, shape, or style you are looking for. Create completely unique displays that will put you ahead of the competition. Many customers require specific dimensions or special parts unique to their brand or space. We can work with you to accomplish this at no extra charge. All of our truss products are fabricated with the best materials, We can make anything. Truss curves, circular truss, custom junctions, custom banner frames and kiosks, custom TV stands. Don't settle for anything less, and get the right stuff to suit your needs. Get what you pay for and what you deserve.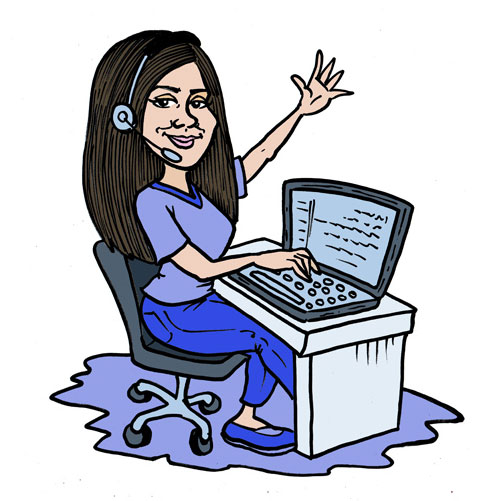 READY TO ORDER?
NEED HELP WITH A DESIGN?
WE CAN DO ANYTHING YOU LIKE SO LET US HELP.
JUST GIVE US A CALL OR EMAIL US.