SHELVES AND TABLES TO ATTACH TO YOUR ALUMINUM TRUSS KIT




Safe, Strong and Effective Shelving to suit all of your needs.
Draw more attention from potential clients to your products and truss exhibit system with easily attachable Shelves and Tables.
Our Shelf and table attachments are a trusted way to showcase your products or provide a functional work surface on our metal truss trade show displays. Our shelves and tables are made from strong aluminum material and can be added or removed easily and efficiently. Lightweight and strong, our shelves and tables are highly portable and easily transported to any venue, lecture hall, exhibition, convention hall or presentation. Our shelves and tables are perfect for creating laptop work surfaces, iPad stations or interactive information areas  This is also an attractive method for displaying product lines, promotional material and branding messages. After extensive research, we have designed and built our shelves and tables to be extremely stable and securely hold a multitude of items. These Shelves and Tables are easily incorporated into an aluminum truss system using our 1″ and or 2″ clamps, making it easy to attach in almost any location on your truss system.
Add a series of Shelves and Tables to your Aluminum Truss Display Booth and instantly increase its functionality.  Make your Display Booth work for you, and cater to your specific needs.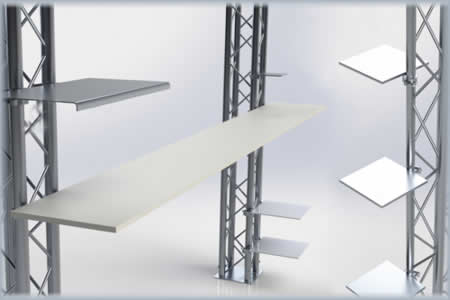 WE CAN SHIP TO ALMOST ANY LOCATION IN THE WORLD AND YOU CAN EXPECT INEXPENSIVE, FAST AND RELIABLE DELIVERY.
WE SHIP TO MOST LOCATIONS ACROSS THE US IN TWO DAYS.