Linear Booth Trade Show Display A49-64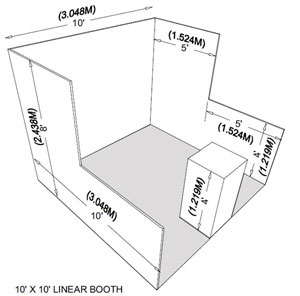 This truss trade show display conforms to the standard in-line Linear Booth specifications laid down by most trade show guidelines. A linear booth is a standard exhibition booth size and one of many types of trade show booths.  Linear Booths have one side exposed to an aisle are generally arranged in a series along a straight line. They are also called "in-line" booths. This trade show display also fits into a 10'x10′ standard booth size. The A49-64 can also be used to hang company banners, banner support arms, lights, shelves, and other trade show accessories.
By adding a few small parts, this booth can also be reconfigured into the A21-64m, a standard perimeter booth..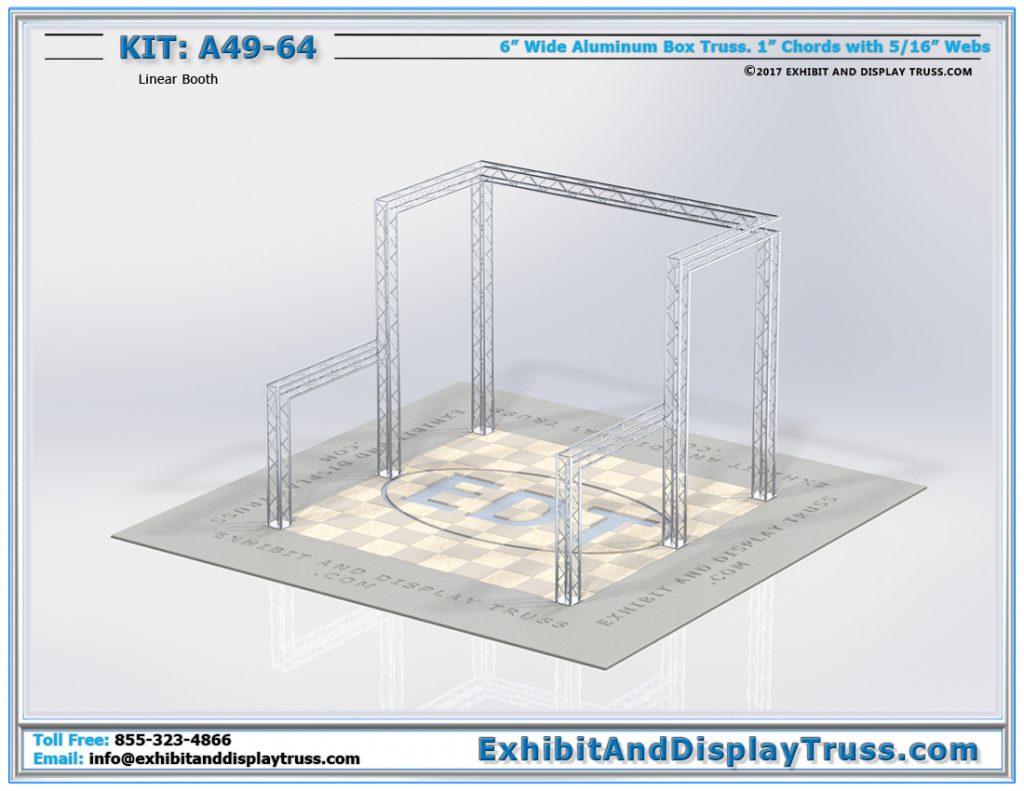 CLICK THE IMAGES ABOVE FOR A QUICK REFERENCE OR CLICK THE IMAGES TO THE LEFT FOR A FULL SET OF DRAWINGS
Compact and Versatile Trade Show Truss Systems
This Linear Booth (In-Line Booth) trade show truss system is a standard exhibition booth size and conforms to exhibition stall measurements and trade show guidelines. Other types of standard trade show booths are:
Visit here to see a complete list of guidelines relating to standard trade show displays and specifications. Don't hesitate to contact us and speak to our customer service team. Our customer service team has over 30 years of professional experience. If you have an idea for a booth design, call us, or email a simple drawing or idea and we will be happy to help you design the best display booth to suit your needs. We offer a wide range of booth sizes and shapes. Some of our booths are in stock, but if you cannot find what you are looking for, we can custom fabricate anything you like to suit your needs. Exhibit and Display Truss and Light Design Systems offer a wide range of truss components, truss parts, and truss accessories as well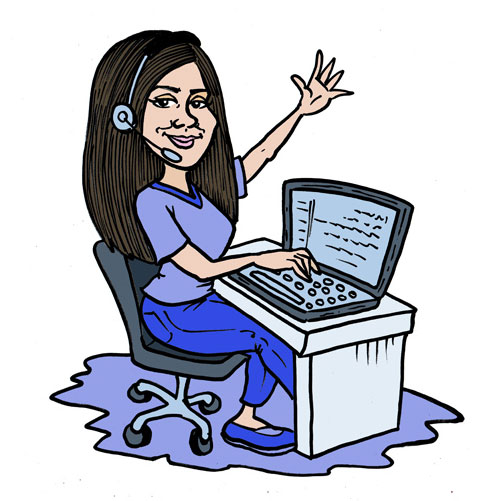 READY TO ORDER?
NEED HELP WITH A DESIGN?
WE CAN DO ANYTHING YOU LIKE SO LET US HELP.
JUST GIVE US A CALL OR EMAIL US.